reviews
---
We want to send you FREE Mass and Slim Shorts!
Submit your testimonial and tell us how wearing TheBlackPurple makes you feel. Did you see results? A short video or a written testimonial with a photo will be accepted and we'll send you a free product just for sharing the love! Terms and Conditions apply.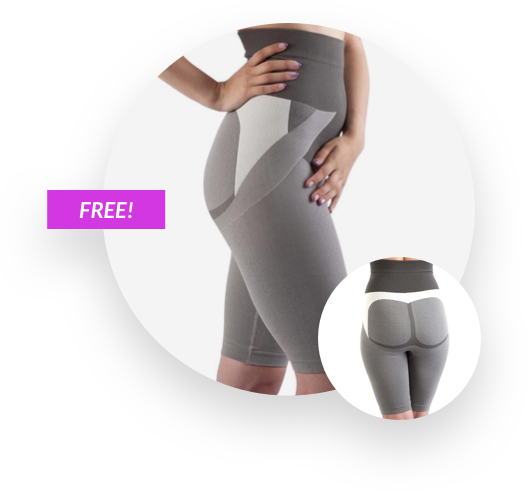 Thousands of women love our shapewear!

I'm so stoked I just received my 3rd pair of Mass & Slim Leggings! These undergarments have helped me so much with my cellulite over the last year… my job requires long hours and I can wear them undetected and feeling and looking firm and toned… all while they are helping me improve my figure! I recommend this product to all my girls!!

This shape wear is extremely comfortable. It breathes very well. I've been wearing for about two weeks now and can not say enough good things about this product. I paid full price and have not been paid for any kind of reviews or anything, lol. Just really love this shape wear.

OMG, I've been using my shorts from the black purple and I'm in love. They Make me look slimmer, they don't make me feel hot and it stays in place. I was smiling when my mom said I looked thinner. I will be buying another pair soon.

I normally do not comment on these or believe in these products. I ordered a pain and am amazed at home they fit, how comfortable they are and an amazing difference under a summer dress. They do not feel hot at all. Lets see what the next 30 days do. I am impressed so far!

I just got mind 2 days ago, wow! I like it. I'm taking the challenge by the way to introduce my friend and order 1 pair for her. Yay! she's happy :)

I love it. I haven't even wore it a week yet!! I can see my body losing inches already! love.

I received my order today. I was so skeptical about it fitting. To my surprise it really did fit. It is very comfortable.
I just received mine and these shorts are the most comfortable slimming shorts I have ever worn. They are extremely comfortable, I definitely recommend these to anyone who is looking for a stylish and comfortable pair of slimming shorts.

Fabulous product. I wear them every day. I'm feeling thinner every time.
What an amazing product. I have leg lymphedema from having lymph nodes removed, due to cervical cancer. Leg Lymphedema is normal treated by wearing an uncomfortable compression stocking. They don't work for me. This product stimulates lymphatic flow, and is perfect for my needs!

I am a nurse and on my feet for 12 hours daily. Not only do these help with keeping my legs less fatigued but supports my back as well. The cellulite reduction is a huge bonus!!!

"I'm 😍 in love!!! Great product!!!"

Oh my gosh I am obsessed! I absolutely love my new black purple shaping pants! I am 5'6" and 170lbs and I bought the size small even though I'm closer to size 10 and they fit perfectly! Now I am going to order the shorts too! I'm just so fascinated with these magical little dots!!"

I love my slim shorts! I wear them at work under my jeans or jeggings and they are super comfortable for all day wear. I have been wearing them for about a week and can tell a difference in the appearance of cellulite in the back of my legs. I also have the active that I'll wear around the house.

Love these shorts, I think they are really working!


Say goodbye to suffocating undergarments of the past! The Black Purple Shapewear is made of a special fabric composed of natural viscous bamboo for a breathable all-day comfort.

Our compression technology is developed to increase the oxygen delivery to your active muscles and reduce the build up of lactic acid. Wearing them helps improve mobility and deter muscle fatigue.

Our revolutionary Tourmaline® beads (ceramic beads) give you a micro massage to improve blood and lymph flow to help you lose the inches and fight cellulite every time you put them on.

There's no need for tugging and readjusting your undergarments! Our high waist, fitted designs stay put all day long but are still easy to pull on and off.

Experience an instant slimming effect from the compression and with wearing consistently for 8 hours over 30 days, users notice a visible loss of inches at the waist and thighs.

In a neutral grey colour, easily wear them under your scrubs everyday for discreet comfort. Even works under workout clothes or formal dresses.
See what people have to say on our Facebook!