Summer's almost here! It's good news for most of us, except those who go through some fear and/or anxiety about going out in public in lighter, more revealing summer outfits. But there is some encouraging news for the over 90 percent of women who have cellulite. In the wake of the ever-growing body positivity movement, and in the face of body shamers, celebrities everywhere are proudly showing their lumps, bumps and cellulite, all over social media.
While you might say "it's about time", we should all recognize the risk they take. Just because they are taking steps to love the skin they're in and live with so-called flaws, it doesn't mean everyone else in their profession feels the same. And members of the public are no better. Many celebrities are body shamed mercilessly every time they try to break new ground and say "Ladies, let's be proud of our bodies!"  
These celebrities with cellulite and stretch marks embrace their bodies
The following women have made deliberate attempts to embrace their bodies the way they are and hopefully encourage and support others to do the same.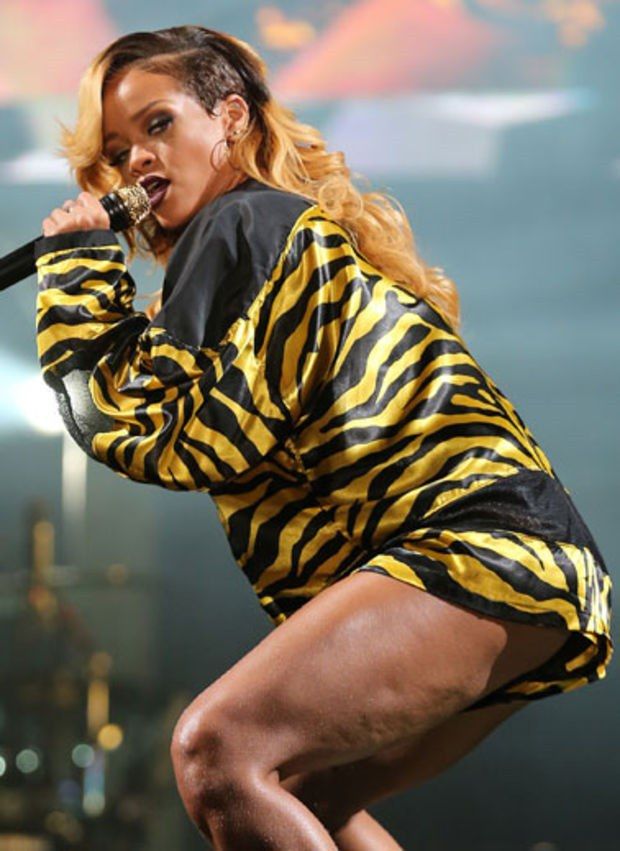 1. Rihanna - Imagine if it was all over the entertainment news every time you put on weight. After one recent bout of weight gain garnered media speculation, RiRi calmly shut them down when she commented that she "has had the pleasure of a fluctuating body type." Enough said!
 2. Chrissy Teigen - The co-star of TV's "Lip Sync Battle", Teigen recently posted an image to her 23.4 million followers on Instagram. Sporting non-photoshopped blotchy skin (bruises from bumping kitchen drawers she said) and cellulite on her legs, the image still managed 157,962 likes and 11,892 comments that were predominantly supportive.
 3. Hillary Duff - Here's an excerpt from Hil's Instagram post where she's pictured in a swimsuit and not even trying to hide cellulite on her legs: "I am posting this on behalf of young girls, women, and mothers of all ages...Since websites and magazines love to share 'celeb flaws' - well I have them! My body has given me the greatest gift of my life: Luca, 5 years ago. I'm turning 30 in September and my body is healthy." 
Just like we all (including all the celebs listed above) enjoy putting on a bit of makeup to look our best, sometimes we just want to go out and feel confident about what we wear. Anti-cellulite shapewear can help you do just that from the moment you put it on.
If you enjoyed this post, check out our recent article about six healthy food alternatives for weight loss.